This article first appeared on the OneStream blog by Scott Stern
With 2020 finally behind us, CFOs are once again looking toward the future. And for those not sold on the value of Finance transformation, the global pandemic provided a crash course on why it's a key factor in helping organizations navigate uncertainty and constant change.
If your organization didn't see the 2008 financial crisis, trade wars, Brexit or the acceleration of disruptive technologies as motivation to digitize Finance, there's now only one conclusion.
Finance teams at large and global organizations must conquer complexity through digital transformation if they want to lead at speed.
Finance chiefs must also prioritize efforts to reduce costs, modernize systems and manage controls. The challenge? Rather than leveraging technology to drive transformation, Finance teams are forced to compromise on their requirements just to get the basics of their jobs done. Yes, even in the early 2020s, rather than focusing most of their time on driving performance, Finance teams are still burdened with managing and reconciling data or – worse – stitching together sub-par, connected Finance technology. Now is the time to break that cycle.
There's now a new path forward for Finance teams to take back control of their destiny. A path forward that's inspiring organizations to chart a new course. That's allowing organizations to work smarter, not harder. That's inspiring a new standard for corporate performance management (CPM).
We call it Intelligent Finance.
Inspiring Intelligent Finance Blog Series
Over the coming weeks, we'll share a four-part blog series discussing the path toward Intelligent Finance through digital transformation. Here's a sneak peak of the key topics:
Inspiring Intelligent Finance, Part 1: Defining an Intelligent Finance Organization
Inspiring Intelligent Finance, Part 2: Exploring the Rise of eXtended Planning & Analysis (XP&A)
Inspiring Intelligent Finance, Part 3: Getting Beyond Connected Finance
Inspiring Intelligent Finance, Part 4: Conquering Complexity with OneStream's Intelligent Finance Platform
Regardless of where you are in your journey, our Inspiring Intelligent Finance series is designed to share insights from the experience of OneStream's team of industry experts. Of course, we recognize that every organization is unique – so please assess what's most important to you based on the specific needs of your business.
The Intelligent Finance Organization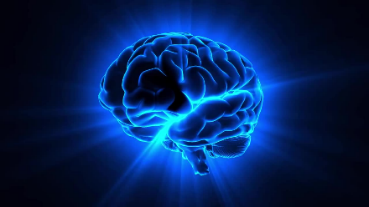 If you're an organization at the beginning of your Finance transformation journey, consider the Hackett Group's 2020 Benchmark Database, 2020 Key Issues Study below comparing world-class Finance teams (A.K.A. Intelligent Finance) to their peer group.
Figure 1 illustrates how world class/Intelligent Finance organizations are delivering better efficiency and effectiveness vs. their peers.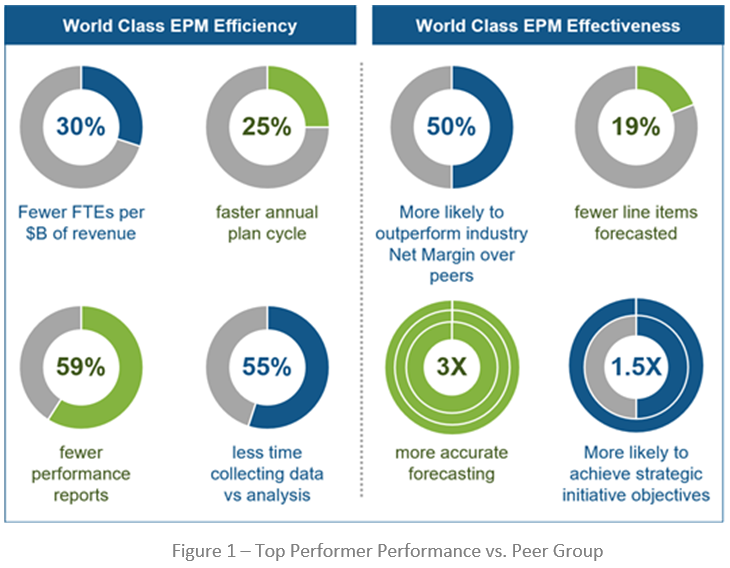 For large, global organizations, these KPIs translate into millions, even billions in enterprise value. What are Intelligent Finance teams doing that's unique? Here are just a few examples:
Intelligent Finance teams unleash the organization from manual and disjointed processes by using digital transformation. How? By leveraging technology to automate tedious tasks and increase the productivity and effectiveness of financial close processes, planning, budgeting, forecasting and reporting.
Intelligent Finance teams empower the organization to focus on value-driving initiatives and provide decision-makers with data-driven financial and operational insights. How? By exploring opportunities to leverage advanced analytics – such as predictive analysis and machine learning – to elevate the accuracy and value of forecasting.
Intelligent Finance teams evolve their organization and processes to address the ongoing challenges and requirements in today's uncertain, volatile and competitive market. How? By dedicating resources and expertise to Sales, Merchandising, Operations, Marketing and HR to accelerate decision-making and unify planning across the organization.
eXtended Business Planning (XP&A): Intelligent Finance + Operational Relevance
Intelligent Financial Planning & Analysis (FP&A) teams are already entering into a new era known as eXtended Planning & Analysis (XP&A).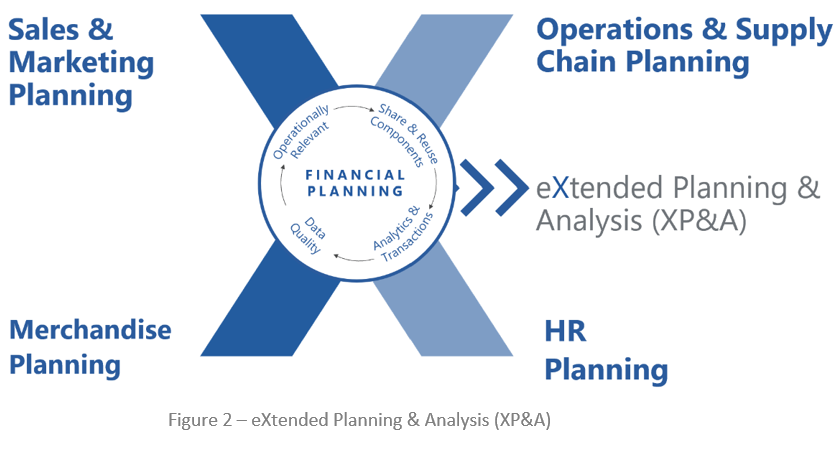 Gartner [1] defines XP&A (see Figure 2) as the extension of FP&A principles beyond the Finance department. This extension could be into any area of the organization that produces business plans, including Sales, Marketing and HR. How is XP&A different from Integrated Business Planning?
XP&A starts with Finance. By design, XP&A is always operationally relevant, so Finance can intelligently align granular business drivers and plans with financial plans. Lastly, and most importantly, XP&A unifies Finance and Operations through a consistent and extensible data model – NOT with connected Finance solutions.
Beyond Connected Finance
Intelligent Finance teams at large and complex organizations require more than "connected" Finance solutions, which are in reality quite disconnected. While connected Finance solutions (see Figure 3) have propelled Finance transformation for over 20 years, these solutions aren't really designed for this new era of uncertainty and constant change. Why?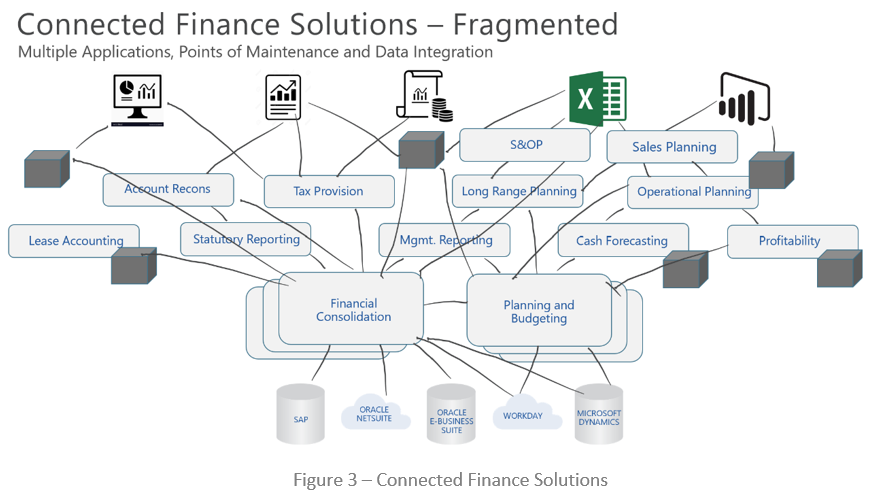 Below are three key factors, all of which we'll dig into in our Inspiring Intelligent Finance blog series, that explain why connected Finance solutions can't meet the challenges of today:
Fragmented Software & Processes – Connected Finance solutions require fragmented cubes and modules to support core planning, financial close and data management processes.
More Data Management & Administration – Fragmented software and technical processes to support that software adds technical complexity and administrative burden on the Finance team.
Lack of Financial Intelligence – Many connected Finance solutions, particularly for planning, offer no financial intelligence. As a result, all core "financial logic" for monthly financial processes – such as for handling debit or credit account types, currency translation, intercompany relationships and partial ownership – must be built completely from scratch.
Comparatively, Intelligent Finance teams are not just "connected" – they're completely unified.
OneStream's Intelligent Finance Platform
Why is OneStream different from connected Finance solutions?
OneStream's Intelligent Finance Platform (see Figure 4) is a truly unified platform that's designed to intelligently leverage and reuse its core components, rather than relying on "connecting tools" that create complexity and redundancy.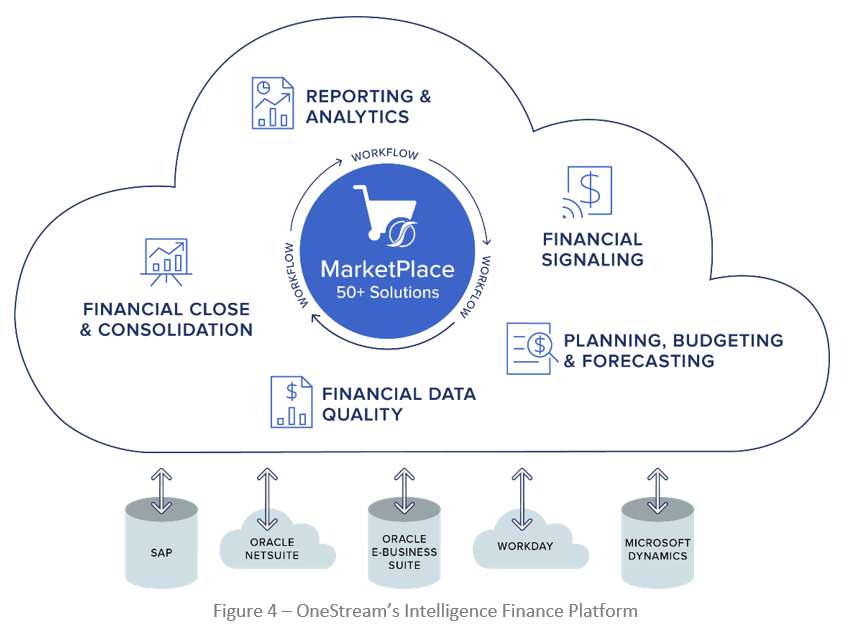 – OneStream unleashes the power of Finance by unifying CPM processes – such as planning, financial close & consolidation, reporting and analytics – through a single, extensible solution. Our platform enables Finance teams to empower the enterprise with financial and operational insights from the same data to support faster and more informed decision-making. And it does all of that in a cloud platform designed to continually evolve and scale with your organization.
100% Customer Success
With a corporate mission of 100% customer success, OneStream is helping hundreds of Intelligent Finance teams across the globe embrace digital transformation and empower their organizations with the insights required for effective decision-making. Here's one example below: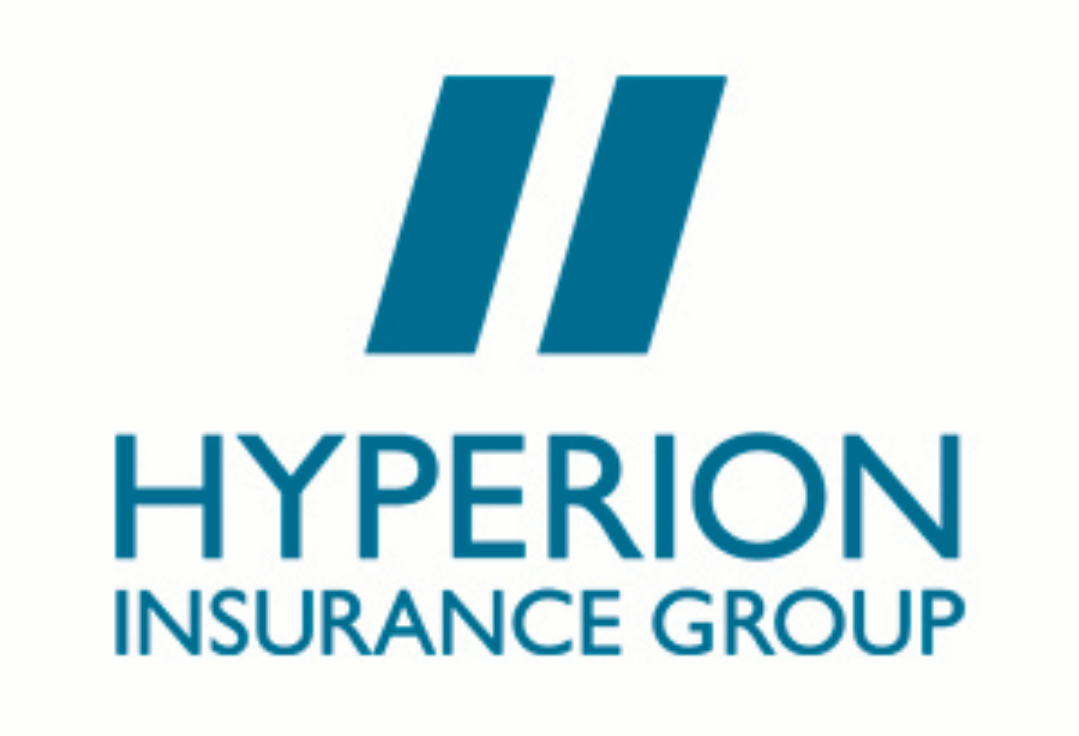 – Hyperion Insurance Group had been relying on Anaplan and had a pronounced need for flexibility, controls and standardization in their finance processes. And as a results of the organization's growth and complexity, Anaplan required excessive, ongoing maintenance to connect plans and lacked the financial intelligence required for reporting. These challenges drove the group's need to replace Anaplan with OneStream's Intelligent Finance platform for financial consolidation, planning, management reporting, employee costing and task management across 40 countries and four divisions. The OneStream platform has helped central teams at Hyperion Insurance monitor and control back-office processes with built-in, granular reporting within a single solution.
Learn More
To learn more about OneStream's Intelligent Finance Platform, tune in for additional posts from our Inspiring Intelligent Finance blog series and download our interactive whitepaper here.
[1]Gartner, 2020 Strategic Roadmap for Cloud Financial Planning and Analysis Solutions, Robert Anderson, John Van Decker, 21 February 2020
Photo by Markus Spiske on Unsplash