This article first appeared on the OneStream blog, written by Lauren Ford | June 30, 2020
When it comes to budgeting, planning and forecasting in an organization with multiple facilities, consistency across the business is key. But using bulky spreadsheets to manage critical financial information such as capital planning, labor data, COGS and more, can set a complex manufacturing company up for failure. Simply put, spreadsheets create bottlenecks in the availability and accuracy of information. This was an issue all too familiar for Innovations in Nutrition and Wellness (INW) Manufacturing. But luckily they found a forward-thinking corporate performance management (CPM) platform that could handle their needs today, and for the future. Read on to learn more.
INW Manufacturing provides manufacturing services to companies in the nutrition, wellness, and personal care industries across the globe. With 850+ employees, 4 manufacturing divisions, 6 facilities, and 10,000 unique formulations, INW continues to expand organically and through M&A activity. In a recent OneStream webinar, Amy Funari, System Administrator at INW Manufacturing and Randy Werder, President of OneStream partner, Black Diamond Advisory, discussed how INW dramatically improved their budgeting, planning and forecasting processes by ditching Excel spreadsheets for OneStream XF. Here's a recap of the event.
INW's Struggle with Spreadsheets
As INW was acquiring new businesses, the manufacturing company was performing financial consolidations and budgeting in Excel, and each division had different complex Excel processes in place. But INW wanted to be able to perform better analysis without requiring more manual work from each entity. They decided to implement a modern CPM solution to help manage the multiple divisions and decrease the complexity of intercompany eliminations. OneStream XF was the solution selected to give INW the ability to continue acquiring companies, while maintaining consistent and timely analytics.
Key Goals for INW's Budget and Forecast

In February 2019, INW successfully completed their first month-end close reporting consolidated financials in OneStream. With historical data already in the platform, INW then decided to expand their implementation even further to leverage OneStream's built-in budgeting and forecasting capabilities. This was a key goal because each acquisition works in their own ERP system and they needed to unify all data within a global GL structure. INW also wanted to be able to track customer sales by product to help each division visualize what they needed to forecast. And with different departments running different labor shifts, INW needed to load detailed data from divisions on their staffing and calculate labor costs based on an assigned shift. With help from Black Diamond Advisory, INW began planning the scope of their budgeting project, which included driver-based rolling forecasting, capital asset planning, and customer level sales by product, revenue, materials, labor and more.
Keeping Business Moving During the Pandemic
Like many manufacturing businesses in 2020, INW was affected by the impact of COVID-19. INW was deemed an essential business during stay at home state and local orders. In their first forecast cycle in March, the company leveraged OneStream to manage "Unity Pay" a labor premium for employees who came to work. Thanks to OneStream they were able to very quickly model the calculated labor premium to see how that would affect the business for Q2. In a 24-hour period, INW spun off a pre-COVID and COVID version of their forecast, as OneStream gave them the ability to adjust to unexpected and changing market conditions. They could easily see what was needed to support their employees and how it was going to affect their bottom-line.
Now INW calculates labor expenses using drivers across divisions with very minimal manual input (Figure 1). OneStream automatically manages full vs. temp workers in one central location for over 200-300 employees per division. OneStream calculates the taxes and salary conversions for global vs. local drivers as well as health insurance and 401K data. INW is utilizing OneStream's Extensible Dimensionality® to roll up labor planning into the GL accounts. Users can then see if their forecast is falling in line with where they've been running historically and adjust the data easily, as needed.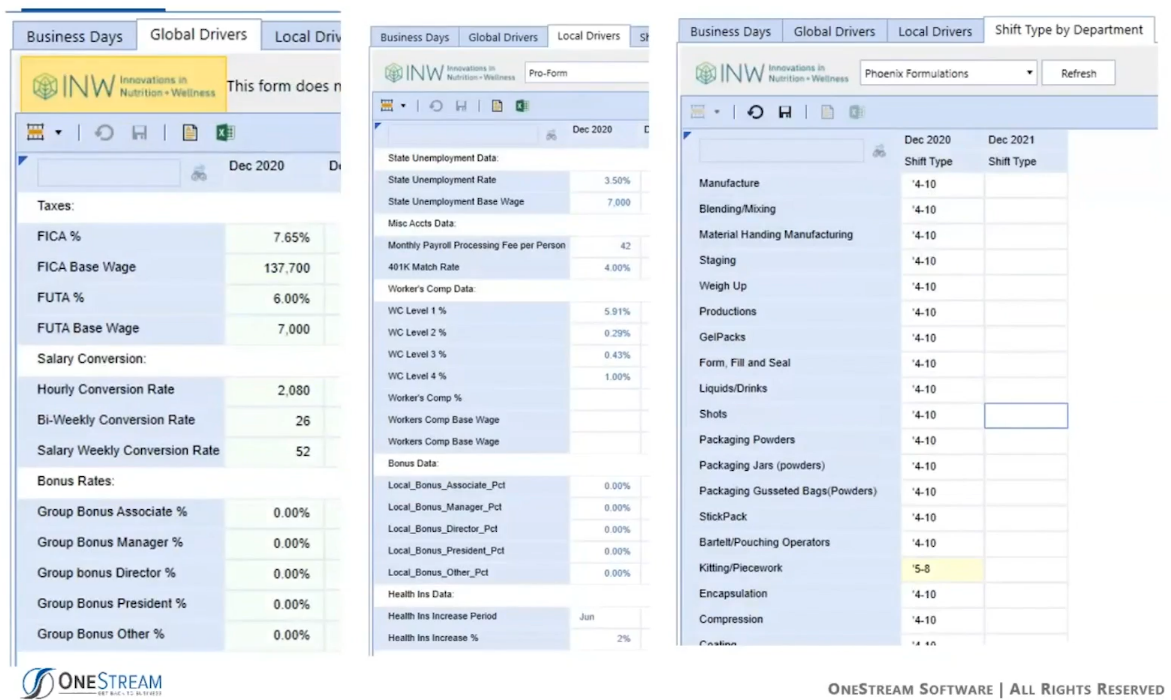 Figure 1 – INW Manufacturing's Labor Drivers in OneStream
Benefits of a Unified CPM Platform
Because of the platform's unified architecture, INW was able to utilize data mapping rules to easily load historical data into OneStream XF. The customer level forecast model was mimicked after existing Excel-based models and built into OneStream as a rolling forecast. Each month, as final actuals are loaded to the working forecast, versions are copied over for budgeting and forecasting to help users see data in the global format and improve the projecting of expenses. OneStream XF supports the needs of INW's manufacturing and supply chain divisions, while allowing users full access to update the forecast as needed. With OneStream XF, there is a simple single point of maintenance built with flexibility. INW has accomplished their current needs, and more including:
Simplified Working Forecast Method – OneStream calculates the last 3- or 6-month average expense percentage of net sales, then automatically calculates the expense at that percentage of the current month's sales through the forecast. There is also a 3- or 6-month variable forecast method. Users can simply select the variable calculations they need.
Selection of Viewing the Next Year Budget – Users benefit from a working forecast that rolls into the budget for next year so there is no need to re-enter data and they can start working on next year's budget at any time. Versions of the forecast are then saved to create 3+9 and other forecasts or budget versions.
Managing Revenue by Customer, Product and COGS – Users are seeding their customer, product and historical sales data into OneStream and updating COGS automatically. Users can quickly calculate both the revenue and the COGS by just updating one number.
Meeting Multiple Budget Team Workflows Needs – INW set up security groups through Guided Workflow to simplify the process so users only see the forms relevant to them.
Simplified Intercompany Eliminations – INW set up intercompany accounts that eliminate on consolidation. The supply chain company can select the customer, product, and company that's going to manufacture that product, while the financial intelligence in OneStream automatically performs the elimination through the reporting hierarchies.
Capital Project Planning – As an important part of the manufacturing planning cycle, OneStream enables INW to stay on budget for capital spending. OneStream calculates the balance sheet and PNL impacts of capital projects for the forecast/budget. Then actuals are booked each month to allow for actual to budget comparison, and to see where the organization is for the year on Capex spend.
Consistent Reporting Structure Across Divisions – INW is using forecast scenario versions that are controlled by parameters for reporting best practices. By simply changing the entity selected, the numbers update, and the reports are structured in the same look and feel.
Learn More
For INW, OneStream has been a very powerful tool for monthly budgeting and forecasting. Consistent reporting across manufacturing facilities keeps all entities speaking the same language – which has been a big win for the CFO and CEO. Users can easily access detailed information to backup projected numbers and are using key analytic data for actual to budget comparison. Best of all, OneStream enables INW to innovate and add new solutions within one platform without adding technical complexity.
Hear directly from Amy Funari, System Administrator INW Manufacturing and Randy Werder, President of OneStream partner, Black Diamond Advisory in our webinar replay!