This article first appeared on OneStreamsoftware.com by Nicholas Cox 
ESG reporting is likely to be one of the most significant changes to corporate reporting for decades ahead.  Increasingly, organisations are recognising the benefits effective ESG reporting can bring and are expressing their intentions with updated visions or missions around ESG.
As ESG reporting rapidly transitions from voluntary to mandatory, the same level of governance, control, accuracy and auditability needed for financial reporting will be required with ESG.  CFOs and Finance teams already fully understand how to drive control and accuracy in financial reporting.  Accordingly, Finance teams are best suited to oversee the collection, consolidation, and reporting of ESG data alongside financial results.
A compelling argument now exists to put down the foundational layer for alignment of ESG with Financial reporting within organisations. Why?  Well, with some mandatory ESG reporting requirements already in force and additional ones on the horizon, meeting organisational sustainability objectives will require a management process like the corporate performance management (CPM) process that Finance teams employ to help meet financial objectives.  This management process includes goal setting, planning, monitoring and reporting, and analysing results to track progress and adjust as needed to stay on track.
As emphasised in the recent 'Measuring Sustainability.  Creating Value' Accenture survey report on ESG reporting, 'Meeting demands for sustainability data will be integral to company performance.  Making a CFO responsible for sustainability is essential for ensuring a company meets its ESG goals.  Companies are much more likely to extensively embed ESG in core management processes when the CFO has accountability for ESG metrics.'
Many of the ESG reporting solutions in the market are focused on only a specific aspect of ESG, such as environmental, health and safety (EH&S) compliance.  That means the solutions aren't suited to the broader requirements of setting ESG goals and targets, tracking progress against targets, and modelling the impact of ESG initiatives on future financial results.
With a unified CPM platform such as OneStream aligning ESG and financial reporting, all processes are handled within a single application and instance.
Benefits of Aligning ESG & Financial Reporting
Eliminate duplicate data collection, consolidation and reporting processes – data is collected once from each business unit and immediately available across all processes.
Improve the accuracy and integrity of ESG and sustainability reporting – an effective data collection with strict audit controls alongside a standard, defined and repeatable reporting process delivers maximum confidence and reliability.
Align ESG and sustainability metrics with financial results – ESG data is collected using the same process used to collect the financial reporting data and can be viewed and analysed in the same dashboards (See Figure 1).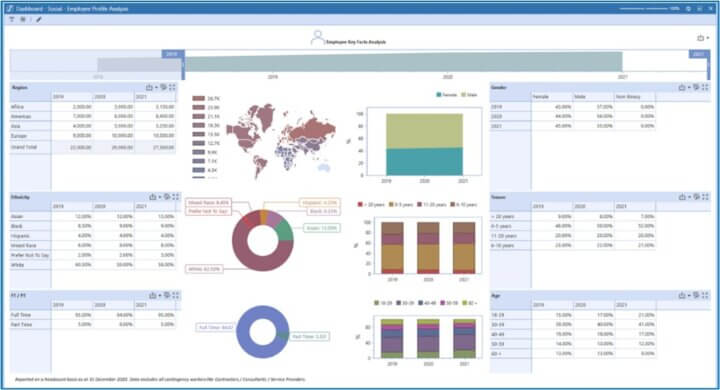 Establish high-quality governance and control over ESG and sustainability metrics – data is collected with validations on load, a defined process with task lists and automation brings structure, and calculations should be fully traceable.
Compare actual ESG and sustainability metrics with goals and targets – a unified platform approach which combines planning with the actual financial close and consolidation process eliminates risky integrations, validations and reconciliations between multiple products.
Unifying ESG with Financial Reporting
OneStream's unified, Intelligent Finance Platform (see Figure 2) with built-in reporting and analytics eliminates the complexity of fragmented ESG & financial reporting tools. With a strong foundation in financial data quality, OneStream allows organisations to integrate and validate large volumes of non-financial data (e.g., ESG metrics and conversion factors) with validation from any number of sources. Confident decisions can then be based on accurate and trusted financial and operating results.
OneStream's financial data quality management is not a module or separate product. Instead, the management is built into the core of the OneStream platform — providing strict controls to deliver the confidence and reliability needed to ensure quality data.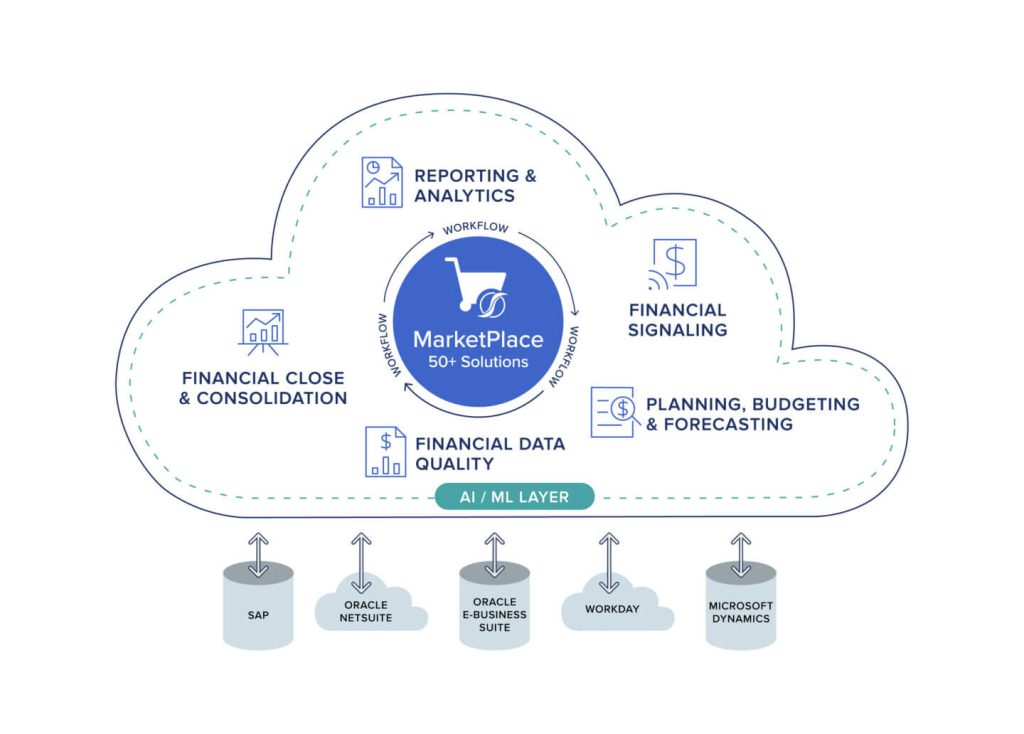 Users can quickly aggregate and consolidate ESG data submissions to provide company-wide results. ESG data is consolidated according to the same principles as financial data. Calculations and eliminations based on specific data values and fuel and energy consumption conversions can also be automated.
Essentially, OneStream "future-proofs" CPM and ESG reporting to ensure compliance when new standards come along. How? OneStream allows for unlimited configurable dimensions and hierarchies – ensuring support for GRI, SASB and other frameworks which may emerge as required.
As a unified platform, OneStream enables organisations to plan and forecast on ESG initiatives with confidence and without compromise. ESG goals and objectives can be set, and users can track actuals vs. targets and provide variance analysis & commentary. What-if scenario modelling is also available to understand the ultimate impact of ESG policies on financial results and business value.
Effective ESG reporting ultimately allows investors to gauge an organisation's intentions and actions – from how the organisation treats people to how board decisions are made or whether environmental factors are being prioritised. To report with confidence and achieve meaningful targets, organisations must therefore have the right ESG solution to drive performance.
Learn More
To learn more, read our ESG Whitepaper or check out the blog posts in our ESG series.  And if your organization is ready to align ESG reporting with financial reporting and get ahead of the upcoming disclosure mandates, contact OneStream today to get started.