This article first appeared on OneStreamsoftware.com by John O'Rourke 
Evaluating and selecting financial planning software for an organization can be a challenging process.  There are a wide variety of software vendors in the market to choose from, often with similar messaging and what can sound like similar capabilities.  Best practice is to start by identifying your organization's current and future business requirements today, and then compare your requirements to solution capabilities.
Industry analyst reports such as the Gartner® Magic Quadrants™ and Critical Capabilities™ Reports can help organizations generate a shortlist of vendors to evaluate, based on an assessment of their technical fit, business fit and usability. Read on to learn what the findings were in the 2022 Gartner® Critical Capabilities® for Financial Planning Software1 report.
Sorting Out the Vendor Landscape
Gartner predicts that the financial planning software market will change dramatically over the next five years, with added emphasis on AI to help identify trends and patterns across large datasets. AI will also be applied to predictive forecasts to maximize operational efficiency, reduce labor costs and produce real-time forecasts and scenarios, thus helping CFOs respond with agility.
Gartner also predicts that the importance of financial planning solutions will continue to increase as CFOs assume a leading role in driving more agile and continuous enterprise-wide planning in a rapidly changing business environment.
In December of 2022, Gartner published their Magic Quadrant® for Financial Planning Software2 report, which provided an assessment of the top 14 vendors in the market. The Magic Quadrant report categorizes vendors as Leaders, Visionaries, Challenges and Niche players and can be useful in identifying a shortlist of vendors to evaluate.
OneStream was recognized as one of the Leaders in this report.
The Magic Quadrant report was followed by the release of the Gartner Critical Capabilities for Financial Planning Software report in late December.  The purpose of the Gartner Critical Capabilities report is to complement the Magic Quadrants by scoring vendors against specific capabilities and customer use cases, to help customers better select vendors that might match their requirements.
Critical Capabilities for Financial Planning
So what were the "critical capabilities" the Gartner analyst team used for their assessment of vendors in the Magic Quadrant and Critical Capabilities reports?  For FP&A software, the 8 capabilities evaluated were:
Configurable Models – focuses on a provider's ability to create flexible models that align with buyers' requirements, with the goal of optimizing financial outcomes.
Scenario Modeling – helps finance teams evaluate the efficacy of strategies, tactics and plans for a range of scenarios.
Data Integration – focuses on the provider's primary data integration capabilities, such as the ability to connect to both source ERP and non-ERP systems.
Advanced Analytics – ability to generate analytic insights and present them via a user-friendly dashboard that emphasizes predictive reporting outputs and the business relevance of insights.
Capacity – focuses on the software's ability to support a high number of concurrent users without compromising system performance.
Workflow Automation – ensures that planning cycles are governed, planning contributors are tracked, authorization rules are followed, and bottlenecks are identified and resolved.
User Experience/Governance – requires every aspect of a provider's application to deliver a high quality user experience.
Implementation Strategy – demands that the provider have an established implementation strategy, connectors and templates that help clients facilitate implementation of its product.
Gartner then weights each capability for 3 different customer use cases that were identified, including:
Efficiency – This use case focuses on the goal of increasing efficiency and productivity within an organization's planning, budgeting and forecasting processes.
Improve Operational Visibility and Management – This use case focuses on the organization's primary goal of improving operational visibility and management through the use of financial planning software.
Complex Business Environment – This use case relates to organizations with a complex scope that require advanced data integrations and support for a large number of concurrent users and large data volumes.
OneStream's Rankings
Below is a summary of OneStream's rankings vs. other vendors in this report, across the three use cases.  As you'll see, OneStream was ranked #1 in the Complex Business Environments use case, while also being ranked in the top 4 vendors in Efficiency Use Case and tied for 3rd in the Improved Operational Visibility and Management User Case.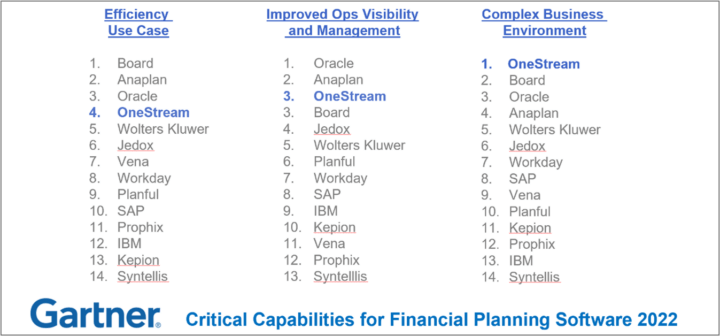 We believe that OneStream being ranked #1 for Complex Business Environments demonstrates that we are a great choice for mid-sized to larger organizations with complex requirements, the need to integrate data from multiple ERP systems and other sources, and who need to support a large number of concurrent users and large data volumes.  At the same time, we believe OneStream should also be considered for other use cases where customers are looking to Increase Efficiency in their planning process or Improved Operational Visibility and Management (e.g., Effectiveness).
Regarding the need for efficiency, for true enterprise planning, OneStream suggests organizations consider how they can create value and efficiency by leveraging a unified CPM software platform with an extensible data model for both financial and operational planning, that eliminates the need for separate products or to "connect" multiple planning models.
OneStream's Intelligent Finance Platform also delivers improved operational visibility and management by aligning financial and operational planning, reporting and analytics in a single application that supports intelligent decision-making across the enterprise.
Learn More
Being recognized by Gartner as a Leader in the Magic Quadrant for Financial Planning Software was important for us as a company. But equally important is being highly ranked in all use cases in the Critical Capabilities report.  To learn more, download a complimentary copy of the Gartner Critical Capabilities Report for Financial Planning Software and contact OneStream if you would like to evaluate how we can address your organization's business requirements.