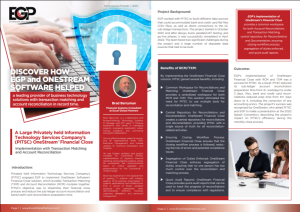 by Brad Berryman, Financial Systems Consultant, EGP
A Privately held Information Technology Services Company (PITSC) engaged EGP to implement OneStream Software's Financial Close solution, which bundles Transaction Matching (TXM) and Account Reconciliation (RCM) modules together. PITSC's objective was to streamline their financial close process and reduce the sub-ledger account reconciliation and bank/credit card reconciliation preparation time.
PROJECT BACKGROUND:
EGP worked with the PITSC to build different data sources that could accommodate bank and credit card flat files (CSV files), as well as direct connections to the GL sub-ledger transactions. The project started in October 2021, and after design, build, parallel/UAT testing, and go-live phases, it was successfully completed in April 2022. The team faced two significant challenges during the project and a large number of disparate data sources that had to be built.