this post first appeared in OneStream Software blog page by Jaime Marijuán Castro
In the previous blog post of this series, we covered why leaning on a truly single platform with an extensible data model is the most effective way to unify business strategy with planning activities across the enterprise.  The prior post also laid out the framework of a unified integrated business planning (IBP) model and identified the hidden costs for organizations that implement IBP built on fragmented tools and spreadsheets.
This final post of the series shows the benefits from an IBP journey and then digs even deeper. Why?  To show how an organization can maximize those benefits when the IBP implementation is underpinned by a single platform with an extensible data model.
Benefits of Unifying "Connected" Business Planning
The benefits an organization can expect from an IBP implementation are diverse. In the big picture, IBP can certainly improve financial and business performance. Figure 1 outlines some of the most remarkable KPI improvements.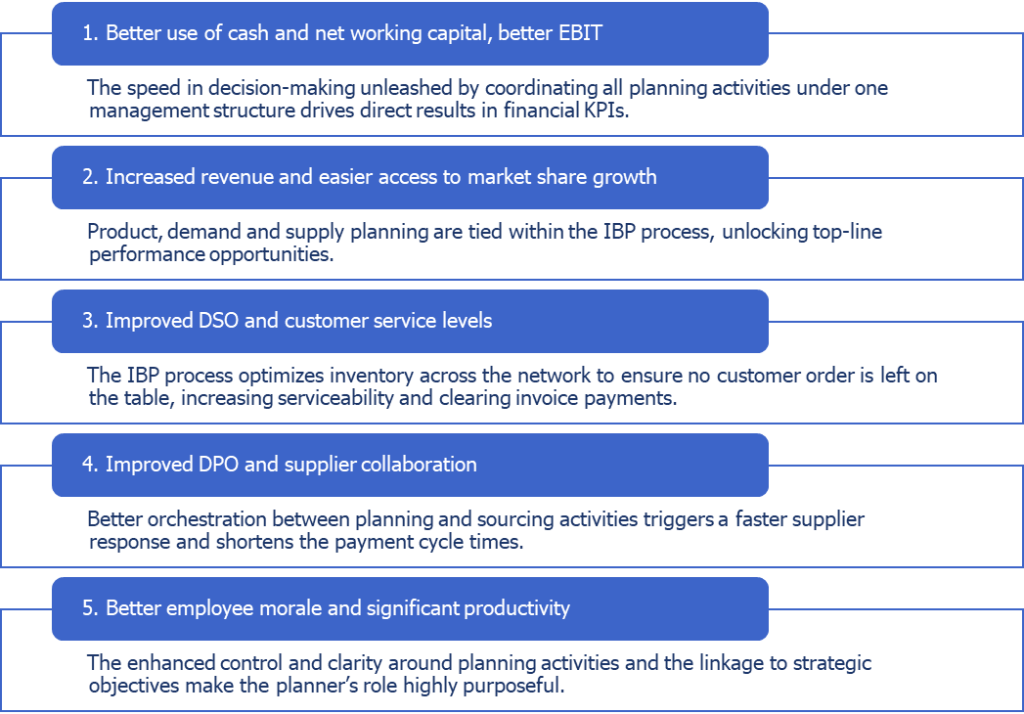 The range of improvement organizations claim through those benefits can be substantial, too.  According to McKinsey & Company, "The average mature IBP practitioner realizes 1 or 2 additional percentage points in EBIT.  Service levels are 5 to 20 percentage points higher. Freight costs and capital intensity are 10 to 15 percent lower – and customer delivery penalties and missed sales are 40 to 50 percent lower.  IBP technology and process discipline can also make planners 10 to 20 percent more productive."  McKinsey & Company also emphasizes the importance of keeping P&L owners involved in the IBP process.
Equally important to those benefits is the technology used.  What's the advantage of choosing the right technology to support the IBP process?
Simply put, the choice of technology is pivotal for achieving the highest percentile of the benefit ranges. Yet many organizations undervalue the role technology plays in achieving better results.  Instead, those organizations live with sub-optimal IT architectures populated with point solutions, weak integration flows and uncontrollable spreadsheet usage. Those pitfalls only further emphasize why organizations aspiring for excellence should opt for a truly unified platform that covers the breadth of an IBP process.
Going for one platform with the right data integration model not only provides higher business benefits but also results in lower IT costs, frictionless collaboration among teams, more speed in decision-making, enhanced resilience to any changing condition (e.g., market disruptions, growth by acquisition) and less risk.
Maximizing the Value of IBP with One Platform
When one unified platform caters to the needs of integrated business planning, organizations can aspire to get the highest return of value from the IBP process. Having one platform that unifies business strategy with all planning activities, consolidation and reporting provides unmatched levels of performance. And this advantage is exactly what organizations get when choosing to support their IBP journey with OneStream's Intelligent Finance Platform (see Figure 2).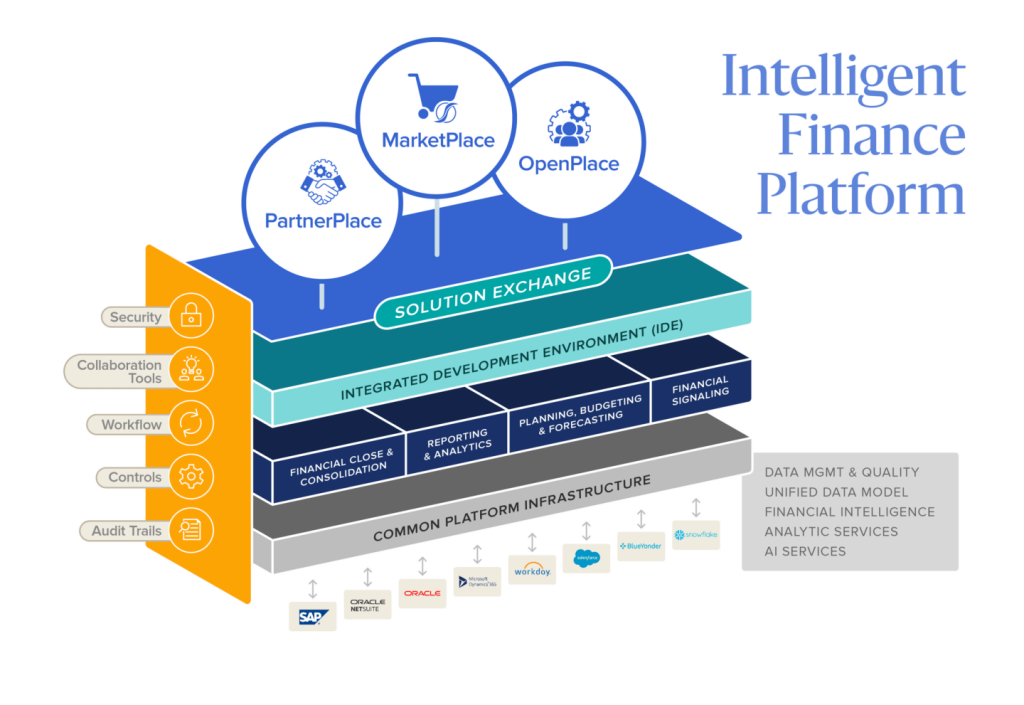 OneStream's Value Realization Report validates the platform advantage. The report details the benefits that adopters of OneStream's Intelligent Finance Platform achieve across the different domains that pertain to corporate performance management: data management, close & consolidation, account reconciliations, reporting, and planning & budgeting.  According to the report, OneStream simultaneously generated value in four different areas:
Technical Debt (i.e.,difference between current state cost and future state costs.) One platform drastically reduces or eliminates certain technical costs. Those costs include administrator costs, hardware and data center costs, upgrade costs, data warehousing, third-party software to complement or enhance the applications (e.g., machine learning engines, inter-company eliminators, currency converters, etc.), disaster recovery costs and more.
Effectiveness. Being more effective or making better decisions faster is possible by simply having information readily available at the right time and with the right level of detail. The use of one platform and one data model increases effectiveness significantly. Why? The need for continually copying, moving and reconciling data among different point solutions is eliminated.
Risk Mitigation. OneStream helps avoid costly mistakes caused by manual step errors and the lack of traceability and auditability. The full advantage comes by having full, direct integration with systems such as GL/ERP and other source systems.
Efficiency. According to OneStream's Value Realization Report, "Planning and Budgeting takes less time for OneStream customers.  A customer that moved from a rudimentary Excel®based system to their first budgeting tool saw a revolutionary improvement of 95%. Customers who moved from another budgeting tool that was relatively sophisticated saw between a 10% and 25% improvement in the time they spent on budgeting after implementing OneStream."  On average, OneStream users see efficiency improvements of 42%.
Data management is massively improved as well.  According to the report, "Customers improved their data management processes, delivering results between 98% improvement when moving from a complex system with several disparate systems and 10% when upgrading from a system that is already fully integrated but needs to take advantage of more fluid flow of data and information." This improved efficiency ties directly back to the financial and business performance KPIs introduced earlier in this blog post (see Figure 1) – i.e., significant productivity gains, better use of cash, net working capital, better EBIT, revenue and market growth, better service levels and improved DSO, DPO and DIO.
Conclusion
This blog series highlights why current market conditions require new approaches to integrated business planning and why many organizations struggle to implement IBP due to three main challenges: lack of leadership support, organizational resistance and underestimating the technology needs.
These challenges aren't insurmountable, however, thanks to advanced technology solutions that truly unify business strategy with planning. And when organizations aspire only to excellence, one platform with a single extensible data model is the key to successful IBP implementations.
OneStream's Intelligent Finance Platform delivers in that regard. Its data-first approach to integrated business planning unifies the views of strategy, planning and performance – increasing the speed of decision-making and improving business performance.
Learn More
Discover OneStream's Intelligent Finance Platform advantage here, and download the Value Realization Report