This article first appeared on OneStreamSoftware.com John O'Rourke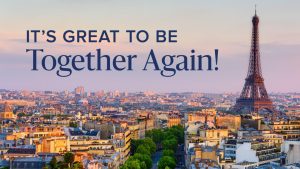 The OneStream community of customers, partners and employees has grown and thrived over the past few years, despite the global pandemic and reliance on virtual conferences and events.  But there's no substitute for getting the community together in person to exchange ideas, share success stories and discuss best practices for maximizing the value of OneStream's platform and solutions.  Read on to hear the highlights of the OneStream Splash EMEA user conference and partner summit which was recently held in Paris, France.
OneStream Makes a Splash in Paris
The last OneStream Splash EMEA user conference was held in Madrid, Spain in 2019 and the OneStream EMEA community was more than ready to get back together in person for the 2022 event in Paris, France.  Over 700 customers, prospects, partners and employees gathered at the recently renovated Pullman Montparnesse hotel (a property of our customer Accor), as well as virtually, September 14 – 16th.  They attended to learn what's new and what's coming in the OneStream platform and MarketPlace, exchange ideas, share success stories and discuss strategies and best practices for maximizing the value of their investment. For those who missed it, here's a recap of the highlights from the conference.
Day One – Hands-On Workshops, Drop-In Demos and Partner Summit
The first day of the Splash EMEA conference started with a day of hands-on workshops, drop-in demos of key capabilities, as well as several virtual sessions for remote attendees.  The hands-on workshops included introductory workshops for customers and prospects, as well as advanced workshops on topics such as Basic and Advanced Dashboards, Financial Calculations, and Analytic Blend.  Drop-in demos were available for several topics including Data Integration, ESG Reporting, Application Control Manager, Account Reconciliations/Transaction Matching, and Operational Planning.
Day One also included a Partner Summit, where over 200 partner attendees from across EMEA received updates from OneStream's leadership on what's new and what's coming in the OneStream platform and MarketPlace, the company's plans to continue growing and enabling the partner community to deliver 100% customer success.
The day concluded with the opening of the Partner Expo and Welcome Reception for all attendees.  Events like this would not be possible without the support of our partners, and OneStream had 21 partners who sponsored the event and had a chance to highlight their capabilities to attendees at the Partner Expo and throughout the event.
Day Two – Opening Keynote, Plenary Session, Breakout Sessions and Splash Night Out
Day two of Splash EMEA kicked off with the Opening Keynote and Splash Awards session, which was hosted by Matt Rodgers, SVP and General Manager of OneStream EMEA.  Mr. Rodgers highlighted OneStream's rapid growth and success since the 2019 event in Madrid.  This included the following statistics:
Global Customers grew from 300 to over 1000
OneStream Employees grew from 300 to over 1200
Global Partners grew from 130 to over 220
Splash EMEA attendees grew from 350 to over 700
While the growth in OneStream's global customer base over the past three years has been impressive, what really struck me was the number of brand-name customers the company has acquired in EMEA over the past three years.  Several of these customers participated in the customer panel during the keynote session – Jeremy Lamarche from Accor Group, Barbara McLaughlin from Sainsbury's and Lofti Kabbaj from Majorel.  Others led breakout sessions during the conference – Auchan, Autoliv, CMA CGM, Electrolux, KLM, Schiphol and others.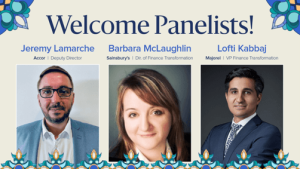 Mr. Rodgers then introduced OneStream President Craig Colby, who highlighted the business challenges that led to the founding of OneStream, and the company's vision for the platform.  He also highlighted how customers are gaining "exponential value" from their investments by taking advantage of all the capabilities of the platform and delivering additional solutions to their users while retiring point solutions and spreadsheets.  Mr. Colby also highlighted new and upcoming innovations such as Sensible Machine Learning, the CPM Blueprint, Browser UX, and expanded offerings from OneStream's Global Education Services team.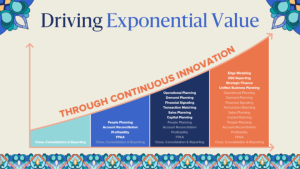 During the opening keynote, several awards were given to OneStream partners and customers to recognize the innovation and advocacy they have demonstrated to the OneStream community.  This included the following recipients:
Partner Innovation Award – Spaulding Ridge
Power of the Platform Award – Inlumi
Customer Advocate Award – Victor Rico at Vima Foods
Congratulations to all the award winners and thanks for your support of OneStream!
After the keynote session, a plenary session focused on OneStream's Sensible Machine Learning solution was delivered to the conference attendees.  During this session, several OneStream executives and ML experts highlighted how our Sensible ML solution is decreasing the time to value for ML forecasting in CPM by delivering thousands of demand planning forecasts across the enterprise.  The session highlighted the results of the technical preview project at automotive safety products provider Autoliv, where the solution has delivered a 35% improvement in forecast accuracy as compared to the EDI-based forecasts Autoliv was getting from their customers in the automotive industry.
Of course, no Splash event would be complete without the Splash Night out costume party where everyone gets a chance to gather for food, drink, dancing and networking.  The theme for this year's Splash Night out event was Anees Folles, paying tribute to the roaring 20's of Paris.  It was great seeing how the attendees embraced the theme with women decked out as flappers, men as gangsters, and other characters from the 1920's.

Day Three – Women in Finance Panel, More Breakout Sessions, and Closing Lunch
The third day of Splash EMEA opened with our annual Women in Finance panel, where several Finance leaders spoke about how they use modern technology and processes to enable organizational collaboration, build bridges, and support career development.   This year's panelists included Michelle Fuoco from Subway restaurants, Julia Fowler from Dyson, and Gaia Kaldor from OneStream.
The day continued with breakout sessions led by several customers, including:
Conquering Tax Provisioning at Arxada
Moving on From Legacy CPM for Unified Reporting at Nutreco
OneStream as Cornerstone for Majorel's Finance Transformation
From Spreadsheet Jungle to Platform Paradise at Nord Anglia
Achieving the Unified Reporting Vision at Terreal
Streamlining Financial Operations at Azelis
Unleashing xP&A at Autoliv
Unifying Cost Planning and Analytics at Electrolux
Unifying Financial Consolidation and Reporting at CMA CGM
Mark Your Calendar for Splash 2023
The closing lunch on Day Three of the event gave attendees a chance for more networking and to say their final goodbyes before heading back to their places of origin.  OneStream's recently launched ONECommunity and local user group events will allow our ecosystem to continue exchanging ideas and sharing successes until the next Splash EMEA event, which will be held in Berlin, Germany September 19-21, 2023.  If you can't wait until then, there's also Splash North America in Washington DC April 17-20, 2023.
You can learn more about Splash and other upcoming events on our website at:  www.onstreamsoftwarecom/events.
Until then – Au Revoir!