This article first appeared on OneStreamsoftware.com by John O'Rourke
In order to stay lean and mean in today's challenging economic environment, Finance teams need to invest in and leverage technology that can automate tedious processes, increase efficiency, and free up Finance staff to focus on more value-added activities.
At OneStream's Splash user conference in San Antonio, I had a chance to interview Jon Goldin, Director of Accounting and Financial Systems at the mortgage insurance division of Arch Capital Group to learn about their journey with OneStream.  Read on to learn how Arch MI implemented OneStream for financial consolidation and reporting, then leveraged the Account Reconciliations solution from the OneStream MarketPlace to replace Blackline, reduce costs, streamline account reconciliations, and improve the productivity of its Finance team
Streamlining Financial Consolidations with OneStream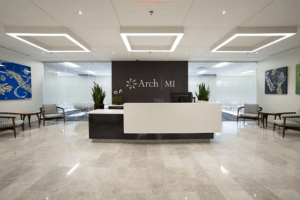 Arch Capital Group had implemented OneStream for financial consolidation and reporting, replacing an outdated legacy application.  The mortgage insurance division (Arch MI) was looking for a replacement for Oracle Essbase for financial reporting, which was being sunset. After a failed POC with an Oracle Cloud Solution, Arch MI evaluated OneStream and found that it could easily address their requirements.
Their initial need was for financial consolidation and reporting, providing the ability to integrate and consolidate data from their two ERPs, and provide users the ability to slice and dice financial information to support their analytical needs through an intuitive Excel interface.
Arch MI has two different ERP systems feeding into OneStream through direct connections that can automatically pull data into OneStream at any point in time during the close process. Each of the business segments loads their data separately, leveraging OneStream's Extensible Dimensionality® to capture the level of detail need for segment-level reporting and analysis, while meeting Arch Capital Group's corporate reporting requirements.
With OneStream, the financial close and consolidation process improved dramatically, and everyone is getting the level of information required for their reporting requirements.
Replacing Blackline for Account Reconciliations
Once OneStream was up and running for financial consolidation and reporting, Arch MI decided to evaluate the Account Reconciliations solution from the OneStream MarketPlace as a potential replacement for Blackline.
According to Jon Goldin, Director of Accounting and Financial Systems "This is something that I like to tout, and I challenge any other OneStream customer to try to beat. But from design up and through go-live, we were able to convert our Blackline information into OneStream and go live with it within two weeks."
Mr. Goldin continued, "After those two weeks we went live with OneStream for account reconciliations, and it took very little time train people to use the tool. Since they were already familiar with Blackline, there was very little of a learning curve for them to go through and we were very impressed with its capabilities. With its audit tracing, its ability to extract data for all of our SOX requirements, and when we had substantive testing, that we could be able to generate the zip files that had all the information there – your certifications, your timestamps, your supporting documentation – all in one simple zip file that you can send to anybody upon request, even your external auditors."
Leveraging the Power of the OneStream MarketPlace
Arch MI has become a true believer in the power of the OneStream MarketPlace.  Said Mr. Goldin, "I was very pleasantly surprised with the ease and capability that a OneStream system admin has to go to the MarketPlace and look at all the 50 plus different solutions that are out there."
Mr. Goldin continued, "And if you're curious about a solution you can click into it, you can get a good overview of what that solution has, its capabilities, what it does. You have some screenshots that give you a visualization of what that solution can do. And if you're further curious to see how something actually works in your dev environment, you can download the solution from a copy of your actual production application and configure it. It's really very simple steps."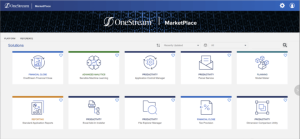 Benefits of OneStream
Arch MI is seeing a lot of value from having one system, one source of the truth for its users for all of their financial information. User adoption has been rapid based on the training that's available and the intuitiveness of the platform. Said Mr. Goldin, "OneStream is very intuitive as far as how it looks and how it operates. It's user friendly and that's important because a lot of users vary in skill as far as working with applications."
With their transition from Blackline to OneStream for account reconciliations, Arch MI had a realized savings of $60,000 a year in licensing fees. According to Mr. Goldin, "That was huge – that was a big win." The company has also seen tremendous efficiency improvements with the OneStream Account Reconciliations solution.
Mr. Goldin commented, "We have been targeting account reconciliations for systemic automation for certifications end to end. Today 85% of our reconciliations are fully automated end to end. My manager was in disbelief and wanted me to pull all the details to show them that it was truly 85% of our records were automated. Our goal is to get above 90%, and I'm trying to shoot for 100%."
Based on that automation improvement, Arch MI has been able to save at least 1800 hours of time, per year, by their preparers and approvers in the account reconciliations process. Said Mr. Goldin, "That doesn't quantify to dollars savings, but more importantly, that time productivity savings can now be put in other areas. So by taking out the redundancies, automating processes, now we're taking our compilation and manual efforts and we're reducing that."
He continued, "And what we're doing is giving the business back the opportunity to increase their analytical needs, which is so important, because we're all being pressed to be able to close quicker, to be able to analyze our information faster, to get that information quicker to our executives for us to make those best decisions going forward."
Learn More
To learn more, watch the Arch Capital Group video testimonial and contact OneStream if your organization is ready to conquer the complexities of account reconciliations, align it with financial reporting, and provide more time for your Finance team to spend more time on value-added analysis so they can lead at speed!