This article first appeared on OneStream Software blog page by Stephanie Bartlett
Data analytics is top of mind for higher education leaders, and they are looking to implement changes to transform the use of data across their institutions.  However, many are struggling to make the shift. Why? They are up against the challenges of disconnected Finance processes and systems, budget constraints and more. To overcome these, colleges must think bigger and look for long-standing solutions that simplify and maximize business impact. A modern Corporate Performance Management (CPM) solution offers a way to not only break technology and process barriers but also empower Finance with actionable insights.
The Momentum
Data analytics is gaining momentum in higher education.  While the past several years have seen a focus on data, the recognition that institutions need to prioritize data now more than ever gets clearer every day.  That prioritization can mean supporting data analytics by hiring staff, implementing processes, leveraging new technology and much more.  In doing so, making data a priority is becoming more important amid the challenging and competitive landscape in higher education.
In that landscape, Finance and Operations teams deal with the complexity of evolving student needs, workforce requirements, funding constraints and other factors – combined with the pressure to be agile and move quickly.  And the best way to manage all of that effectively are tools that provide Finance and Operations with timely, trusted and relevant data.
The Chronicle of Higher Education survey1 explored higher education views on the increasing use of data-driven decision-making. According to the survey, most college officials — 97% — strongly agree that institutions need to use data and analytics better to become data-driven institutions (see Figure 1).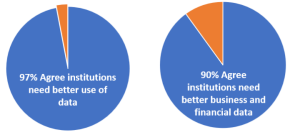 Figure 1: College officials agree to better data
Going further, when asked to rate where better data is needed at their institutions, 90% of college officials cited a need for better data in business and financial operations (See Figure 1).  This overwhelming agreement emphasizes the acknowledgment of a real need to get people relevant financial and operational data.
However, making the shift to data-centric analysis and decision-making for Finance teams is easier said than done.  Why?  Universities and colleges must overcome key obstacles to establish changes that will last.
So what's restricting people from getting the necessary Finance and Operations data?
The Barriers
The survey1 highlighted that culture, tools and processes, and resource constraints represent barriers to progress in data analytics.
According to the survey, the top three barriers to using data are as follows:
Decentralized/siloed data collection
Budget constraints
Trouble turning data into action
Breaking the Barriers
How can Finance teams overcome these barriers with technology?
University Finance teams have answered this question with a modern CPM solution.  Let's dive into the top three barriers and discuss how having the right technology can mitigate the financial and operational data challenges institutions face today.
Barrier #1: Decentralized/Siloed Data Collection
Colleges and universities are complex not only because they provide different services but also because institutions use a number of systems and fragmented processes.  For example, considerable time and effort are required to pull together the annual budget across the different services at an institution.  Considerations include consolidating position and operating expenses, funding available, planned commitment spend, capital project information, tuition, enrollment data and more.  Does this web feel familiar?  (See Figure 2)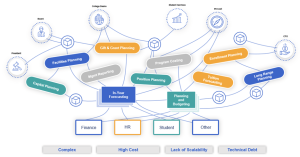 That web of chaos gets even more complicated with the applications, shadow systems and spreadsheets being used for financial reporting and planning.  Plus, as more funding sources, programs and services are added, the web only continues to expand!
In the modeling toolkit web of chaos shown in Figure 2, each line represents not only a risk and cost, but also data latency and redundancy.  Even if that web includes all good products, they're all developed on different technologies and don't naturally work together, yet must somehow be connected.
A modern CPM solution improves the toolkit chaos.  Having an intelligent platform that will simplify and unify Finance processes will remove the silos.  How?  A truly unified platform breaks the silo barriers and brings together data, analytics, plans, reporting and decision-making in a single solution.  This unification allows users to have one source of truth for data that can be leveraged for planning and reporting.
Barrier #2: Budget Constraints
The second largest barrier to improving data analytics is the budget.  Establishing data analytics requires having the right people, processes and tools in place takes time, effort and cost to implement.  Having all those pieces in place is tough, especially for budget-strapped institutions.
So how can institutions break the barrier of budget constraints?  By establishing a long-term strategic vision of a cost-effective approach to improving data analytics.
A CPM platform offers exactly that.  A modern CPM platform unifies financial and operational processes to provide a practical, long-standing approach that will help mitigate costs incurred and provide future benefits.  How?  Here are just a few of the ways:
Reducing the time, effort and expense of maintaining legacy applications and disconnected solutions.
Supporting future growth with less software, not more, by deploying additional or extending existing solutions on the same platform.
Simplifying training and support for end users, who can learn multiple processes on one platform. This will reduce the learning curve, streamline user experience, and drive user adoption.
Ultimately, institutions can gain a great ROI by having a single platform that extends the use of the software to address evolving business needs.
Barrier #3: Trouble Turning Data into Action
CPM software is designed to help Finance turn data into action.
A CPM platform can help institutions overcome trouble in turning data into action by unifying financial and operational data into a governed, flexible platform.  Users can leverage this data across the platform's analytics tools via standard reports, self-service reporting, visualizations and ad-hoc analysis tools.  A modern CPM platform can provide data at the right level of detail for both Finance and non-Finance to empower them to make more data driven decisions.
Conclusion
With the shift to more data-driven analytics, institutions are feeling the challenges of data silos, budget constraints and trouble turning data into action.  But those challenges aren't insurmountable.  A modern CPM platform helps Finance leaders overcome these hurdles and enable more data-centric analysis and decision-making.
Learn More
At OneStream, we understand the complexities, frustrations and challenges of managing disconnected information.  And that understanding is exactly why we are so focused on helping higher education teams unleash data analytics to enable confident decision-making.
At OneStream, we call this intelligent finance.
Want to learn more about how OneStream can empower your higher education Finance team? View our Higher Education website, or contact us for a demonstration.