This article first appeared on OneStream Software blog page by Whitney Gillespie
Scenario planning is a necessity for any Finance department's analysis of the forecast in today's business landscape. By leveraging insights driven by artificial intelligence (AI), Finance can increase the speed, accuracy and time to value in the scenario planning process. AI and machine learning (ML) can also help uncover not only important trends and drivers, but also internal and external pressures that can impact the forecast and help Finance develop scenario plans to address those possibilities. While it isn't possible to predict the future with 100% accuracy, AI and ML can help Finance better prepare for what's to come with more effective scenario planning.
What's So Important About Scenario Planning Anyway?
Setting the stage about how AI can help with developing better scenario plans requires first looking at why scenario planning is a critical piece of the Financial Planning & Analysis (FP&A) puzzle when it comes to developing forecasts.  In our recently published eBook AI-Powered Scenario Planning, we start with why scenario planning even matters.  We illustrate the need for scenario planning by looking to the FSN 2021 Global Survey on Agility in Planning, Budgeting and Forecasting.
And the survey says…when scenario planning is introduced, measurable improvements occur in the results of the budgeting, planning and forecasting cycles.  Figure 1 shows how scenario planners can reforecast earnings in under a week 77% of the time, compared to 41% of the time for planners' non-scenario planning counterparts.  And scenario planners have double the confidence in their ability to forecast a year ahead than their non-scenario planning counterparts.  The numbers don't lie – scenario planning has a material impact on FP&A's ability to quickly and accurately forecast numbers and ultimately have more confidence in those numbers.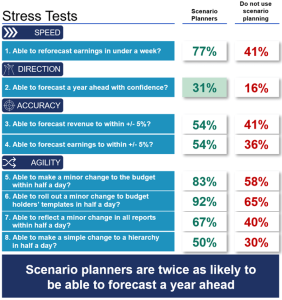 What Exactly Is AI-Powered Scenario Planning?
Now that the importance of scenario planning is clear, what's so important about AI-powered scenario planning?  Hearing the term "artificial intelligence" may conjure images of walking, talking sentient robots, but AI is far more reality-based (and far easier to use!) than that.  In our eBook, we outline a number of benefits to AI-powered scenario planning.  Here are just a few of them:
Enhanced speed and accuracy:  Introducing AI to the scenario planning process helps crunch the numbers faster than if done by hand – with more accuracy than combing through spreadsheets line by line.  What organization wouldn't want to run the numbers faster and better while freeing up people to do more value-added work?
Better cross-functional collaboration:  Machine learning enables forecasting at very granular and frequent levels to support processes that bring together Finance and other parts of the organization – Sales & Operations Planning (S&OP) and other processes that include Manufacturing, Supply Chain, Operations, Marketing, HR and more.  By creating more possibilities in scenario planning, organizations can drive more collaboration around the "what-if scenarios" and ensure no one is left out of the planning process
Improved risk management:  If more people are engaging in a scenario planning process that not only brings together more insight and more data, but also outputs the results faster and more accurately, then the organization can anticipate and respond to disruptions and capitalize on opportunities with more clarity and speed.
OneStream supports the vision of AI-powered scenario planning with AutoAI solutions such as OneStream's Sensible ML, shown below in Figure 2.  OneStream's Sensible ML empowers business users to plan with time-series ML forecasting across hundreds or even thousands of targets, driving better insights into forecasts and the scenarios that impact those forecasts.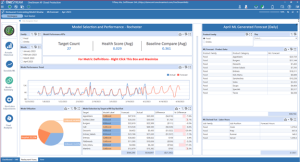 With Sensible ML, organizations can enhance the forecasting process and improve financial and operational planning and do so seamlessly along Lines of Business, Corporate Finance and Operational Finance teams.
How Autoliv Improved Demand Planning with OneStream
Autoliv, Inc. is the worldwide leader in automotive safety systems.  Autoliv develops, manufactures and markets protective systems – such as airbags, seatbelts and steering wheels – for all major automotive manufacturers in the world and mobility safety solutions, such as pedestrian protection, connected safety services and safety solutions for riders of powered two wheelers.
Autoliv's products save over 35,000 lives every year.  Through organic growth, acquisition, and a merger, Autoliv has become a market leader with over 65,000 employees across 27 countries.
Autoliv's mission to deliver forecasting and reporting through the entire value chain led the company to OneStream for actuals and unified planning processes.  By having a single platform for unified business planning and reporting, Autoliv has transformed its financial and operational planning into a collaborative, supported approach.
Autoliv is exploring ML-enabled forecasting to improve operational forecasting and interpret customer demand planning.  By unifying granular demand and supply forecasts with financial plans, Sensible ML would enable Autoliv to proactively respond to changes in the market as information moves along the value chain and impact what the company can produce.  Here are a few additional benefits of the approach:
Recognizing underlying demand trends
Reducing volatility
Improving operational stability and thus reducing premium freight
Reducing fluctuations in labor planning, resulting in reduction of overtime expenditures
Increasing accuracy of demand forecasts, resulting in reduced excess inventory costs
By leveraging Sensible ML's capabilities to produce detailed, granular forecasts at the daily level, Autoliv was able to create forecasts to match the granularity of its demand planning.  Sensible ML can also produce more accurate and more frequent forecasts at scale and at a fraction of the time and cost of traditional forecast methods (Figure 3).  With the improved forecasting, Autoliv could quickly pivot from demand forecasting to supply-oriented forecasting in response to COVID-19 disruptions of market conditions.  Using Sensible ML's Auto AI feature has allowed Autoliv's team to automatically bring in new drivers that represent the current business environment and therefore save time and increase agility.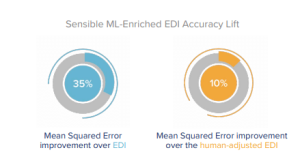 Conclusion
AI-enabled Finance is here to stay, and AI-powered scenario planning can drive Finance to faster, more accurate and more collaborative insights through the financial forecast. Ultimately, for Finance organizations trying to navigate today's rapidly changing and competitive business environment, leveraging scenario planning offers quantifiable benefits, and AI can further improve those benefits by unleashing the true value of Finance teams.
Learn More
AI-powered scenario planning, compared to financial analysis that doesn't leverage scenario planning or AI and ML capabilities, offers a powerful way for Finance to forecast faster with more accuracy and more insights from across the organization.  To learn more, check out our eBook on AI-Powered Scenario Planning and our webinar Power Through Uncertainty: Harnessing ML-enabled Scenario Planning to Stay Ahead of the Curve.