This article first appeared on the OneStream blog by Joel Bittick
COVID-19 is impacting almost every individual and organization across the globe. And while we are several months into the pandemic, there are still so many unanswered questions. Will our largest population zones revert back to shelter-in-place restrictions? Should we really anticipate up to three-fold increases in remote work as Hackett's Finance 2020 research suggests? And when will consumer demand and supply chain activity return to pre-COVID levels, if ever?
State and local government and education (SLED) and public higher education face the same questions as their private sector brethren. How so? Because existing annual or biennial budgets no longer reflect the economic environment under COVID. The impact and uncertainty from COVID are bringing many questions about these organizations' funding sources considering the variability in macroeconomic conditions. Why? Because public higher education operating budgets receive anywhere from 15%-40% of their funding from state and federal funds. And with uncertainty permeating across federal, state and local agencies, the challenge for leaders within higher education to focus on structural classroom changes is becoming increasingly difficult. State and local governments face similar pressures too, as 50-60% of their tax receipts (e.g. sales and property tax) are typically generated from the retail and other tax generating industries which have been decimated throughout the pandemic.
To discuss these challenges and more, I sat down with Todd Hoffman of Guidehouse and Rodney Zech from Clarity Partners to learn how they are advising SLED and higher education clients and prospects through the uncertainty that's quickly becoming the "new-normal" for finance leaders.
– Guidehouse is the former PWC Public Sector practice owned management and technology services firm focused on commercial and public sector clients (federal, state and local agencies) with 7000+ employees, and more than 50 offices across the globe. Todd Hoffman is Partner in Guidehouse's State and Local Practice.
– Clarity Partners, LLC is a Chicago based professional services firm with a dedicated focus to state and Local agencies and higher education institutions in the upper Midwest. They are also a certified Minority Business Enterprise (MBE). Rod Zech is a Managing Partner and cofounder of the firm.
Here's a brief recap of our discussion:
Joel: Gentlemen, what's your overall impression of challenges facing the SLED and Higher Education markets as we deal with the COVID pandemic?
Rod: "Government agencies are now experiencing, perhaps for the first time, significant shortfalls in tax revenues from a variety of sources. Therefore, planning processes have to change not only to give a line of site into the numbers, but also to ensure agencies are continuously communicating and adjusting their plans. We are guiding customers to shift reliance away from static budgets and finally make the move to quarterly or even monthly rolling forecasts to allow leaders to make proper resource allocations."
Todd: "We're seeing the same. It's reminiscent of the 2008 Economic crisis where 85% of CFO's were reporting above average levels of uncertainty. I read recently that Vancouver, Washington, is expecting to lose out on as much as $60 million (40% of its annual general operating fund) as a result of the COVID-19 outbreak, mostly in lost sales-tax revenue. And that's completely dependent of the assumptions of how long the shutdowns will last. So if they are not already, customers need to start thinking about not only continuously planning, but enabling their teams to rapidly model scenarios and track performance efficiently and effectively.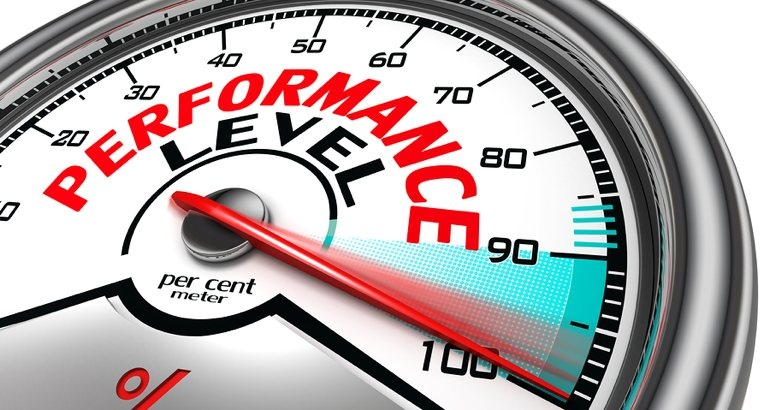 Joel: How are you guiding leaders to take meaningful action in spite of unprecedented uncertainty?
Todd: "The response to the COVID-19 pandemic continues to demand tactical operational and financial planning that's balanced with longer-term strategies. For example, the University of Minnesota Board of Regents, decided to freeze tuition for undergraduate, graduate and professional students during the next school year, while asking leaders to submit and evaluate multiple scenarios for the operating budget.
Rod: "Uncertain times lead to re-prioritization of investments. For the significant number of SLED and higher ed institutions that haven't invested in modern corporate performance management (CPM) solutions to automate finance processes such as the financial close, planning and forecasting – now is the time. Beyond core processes, COVID is driving the need for much higher velocity analysis and reporting of operational data weekly or even daily.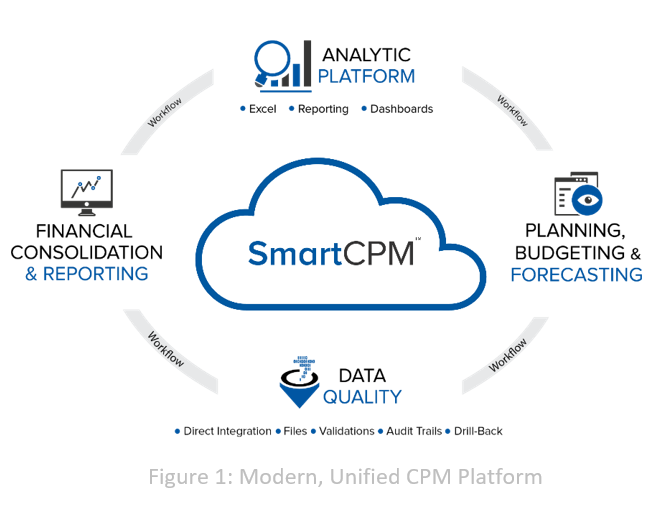 Joel: So what are the key considerations you suggest SLED and higher education clients pay attention to when modernizing their corporate performance management (CPM) processes?
Rod: "There are a number of CPM solutions in the market. Many are point solution focused, which means they provide very specific functionality for the planning or the financial close. And while point solutions serve a purpose, their fragmented nature can be inefficient and expensive to maintain as organizations scale, need to upgrade, and take on more complex processes like operational analysis or advanced analytics. More modern CPM solutions (see Figure 1) provide a single, unified platform for all critical CPM processes and also include built-in financial data quality controls to capture and certify data from source systems, driving accuracy and trust in the numbers. As organizations grow to address new demands, we find this approach drives better end user experience, provides flexibility for operational analysis and supports unique needs while also providing control for consolidated reporting. And with a less complex software stack, organizations can save money in the long run.
Todd: I agree. Enabling CFOs, budget officers and controllers with a single, extensible platform to close the books, plan and report on operating funds, grants and capital is attractive. With the unified structure, we've seen clients achieve great results in terms of shorter close and planning cycles, increased user productivity and the ability to shift time towards higher value work. By investing into an extensible solution, clients also have an opportunity to continually expand the scope and value of their platform to address new requirements such as long range forecasting, performance based budgeting, people planning and capital planning.
Learn More
To learn more about how SLED and higher education Finance leaders are modernizing their CPM processes, download our solution brief here.