This article first appeared on the OneStream blog by Scott Stern
For many FP&A teams, there's nothing more exciting than jumping into the trenches with business partners. Why? Well, like our friends in Sales, Marketing and Operations, FP&A folks love the action too. Some enjoy helping drive strategic initiatives like new product innovations, acquisitions and evaluating capital investment decisions. Other FP&A folks like the budgeting, planning & forecasting processes that transform "big picture" goals into tactical plans.
What's the common thread? In short, most FP&A teams want nothing more than to help to deliver value to their organizations. And to help them get there, many FP&A teams would jump at the chance to leverage predictive analytics to help their business partners improve decision-making.
There's just one problem. Most FP&A teams don't have the right tools for the job.
Consider the research from FSN's Future of Finance Systems Survey 2019. Here are some of the results:
42% of Finance teams have the information they need to support functional business partners
31% of Finance systems provide a dependable platform for decision-making
23% of Finance systems enable finance teams to respond quickly to market changes
What do the numbers tell you?
My take is simple. First, Finance teams require solutions with built-in analytical capabilities to enable collaboration with their business partners. And second, despite spending billions of dollars on corporate performance management (CPM) systems, Finance teams are sick of their status-quo legacy tools.
Spreadsheets and Legacy Tools Don't Cut It
So how do you know if your legacy corporate performance management tools or Excel spreadsheets are up to addressing today's challenges? Start by evaluating whether your tools enable you to find new and innovative ways to "ask why." Here are a few questions to consider during your evaluation:
Are you able to identify potential forecast bias in the bottoms-up operational planning process?
Do your business partners in Finance, Sales and Operations have the ability to leverage analytics as part of their planning processes?
Does your Finance team currently have predictive analytics capabilities? If so, are they handled with separate tools and products that are outside of your planning processes?
Unleashing Finance with Built-In Predictive Analytics
If your answers to the questions above are mostly "no", it might be time to take a look at OneStream's unified platform for budgeting, planning & forecasting, analytics, financial close and data quality. With over 500 customers across the globe – including Capital One, UPS and The Carlyle Group – OneStream's modern, unified platform is quickly becoming an attractive alternative to legacy CPM solutions and cloud-based planning tools.
And now, with built-in predictive analytics (see Figure 1), OneStream is unleashing finance teams to take their budgeting, planning & forecasting processes even further – to plan, analyze and predict with confidence.
Figure 1: OneStream's Predictive Analytics Solution
Plan, Analyze and Predict with Confidence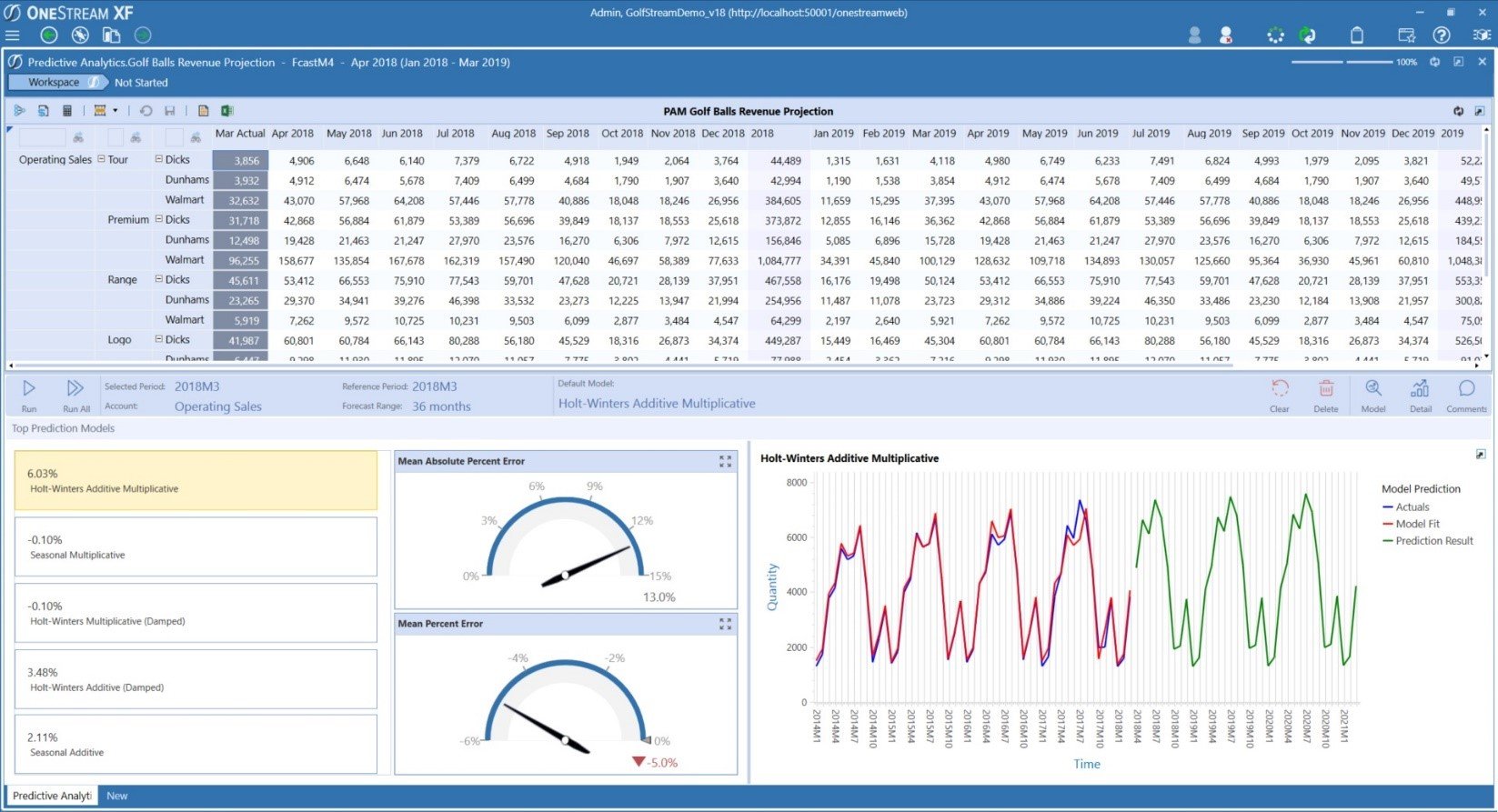 OneStream's Predictive Analytics 123 solution, which is downloadable from the XF MarketPlace, automatically cycles through multiple predictive algorithms to determine the most accurate forecast type. Results are then graphically displayed and deployed across all aspects of the budgeting, planning & forecasting processes.
Practical Use-Cases
So how can FP&A teams leverage predictive analytics? Here are a few use-cases designed to help increase collaboration with various business partner groups (for additional common use-cases, refer to Figure 2):
Assist with the target-setting process to support Strategic Planning and/or Annual Operating Plans (AOP)
Create baseline predictive forecast scenarios for comparison against bottoms-up, internal forecasting from divisional finance or operational business partners
Automatically seed new forecasts with predictive models for AOP and rolling forecasts
Adjust baseline predictive forecasts with known business changes, such as those with new customers, plant shutdowns, new acquisitions, etc.
Figure 2: Use Cases for Predictive Analytics
Business Benefits Require Consistency
Some Finance people may think, "Shouldn't predictive forecasts replace all other forecasting processes?" No. In fact, like many things in Finance, leveraging predictive models is not a one-time event, it's an ongoing process. That's especially true if the goal is to create tangible business value. But aren't predictive forecasts ultimately designed to help increase forecast accuracy? The simple answer is yes.
But it's also important to remember that, by design, predictive models pump out forecasts based on history. Why does that matter? Well, it means that the impact of future business plans – which are critical for budgeting, planning & forecasting – are not captured in predictive models. Wait, but aren't ongoing business plans also essential for forecasting? Bingo!
That's why leveraging predictive forecasting is so powerful. Rather than spending endless hours analyzing the organic business plan (i.e., the baseline forecast), Finance teams can – with predictive forecasting – focus on the initiatives designed to help their organizations increase margins and/or mitigate risks.
And when predictive analytics are applied consistently within the planning processes, FP&A teams can reshape the collaboration model with their business partners and continue to claim a stake as a strategic advisory group to the organization. And most importantly, by creating insights, increasing awareness and driving dialogue on how the "why," "how" and "who" translate into financial goals, FP&A teams are helping to seed their organizations with the strand of DNA that's required to achieve their goals and thrive over the longer term planning horizon.
Learn More
To learn more about leveraging predictive analytics for budgeting, planning and forecasting, download our solution brief here.