This article first appeared on OneStream Software blog page by Stephanie Bartlett  
Government agencies are under increasing pressure to effectively communicate their plans, initiatives and impact on the community.  The budget, a powerful communication tool, helps agencies do just that by not only identifying services and funding allocations, but also providing the rationale behind key decisions.  To bolster confidence in budgets, Finance teams must prioritize quality data, foster better collaboration and implement continuous review processes.
As the next budgeting cycle approaches, now is the time for state and local agencies to make improvements and prepare for a more confident planning season.
Understanding The Significance of the Budget
The annual budget crucially identifies the services that will be provided and the associated funding allocations, resource alignment and accountability of spend.  But the budget is also a powerful communication tool for Finance.  Why?  The budget turns plans, initiatives and programs into facts and figures for both internal and external stakeholders.  In doing so, the budget quantitatively shows what services and functions are a priority and how both will be supported.  The budget essentially creates the rationale behind key decisions and a tangible plan that's then executed and tracked over time.
Tackling Unique Challenges in Government Planning
Government agency Finance leaders face the demanding task of creating a balanced budget while ensuring long-term financial sustainability.  Balancing the optimization of restricted funds with supporting community goals and initiatives creates a complex challenge (see Figure 1). Accordingly, decisions about the utilization of recurring versus non-recurring funds, reserve allocations, covering core services and funding new initiatives require careful consideration.  To build confidence in their plans, Finance teams must rely on trusted data, collaborate effectively with operations and embrace continuous monitoring.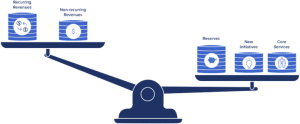 Creating Confidence in the Budget Process
To tackle challenging questions and have assurance behind the plan, Finance requires reliable and trusted data throughout the budget process.  Government agencies can implement the following three strategies to budget with confidence:
Rely on quality data: Leverage tools to centralize data, ensure data quality controls and provide transparency.
Enable better collaboration: Give users not only easy-to-use reporting and planning tools but also the data needed.
Implement continuous improvement processes: Provide teams with the capabilities to do real-time variance reporting, forecasting and robust scenario modeling.
Relying on Quality Data
The foundation of a reliable budget lies in having accurate and timely data to support funding and spending decisions.  Importantly, having facts and figures to support funding and spend decisions builds trust and confidence.   While data doesn't create answers – that's what people do – data does lay a foundation that leads to better conversations.  How?  Data facilitates informed conversations, demonstrating the importance of various initiatives and potential trade-offs.
So how do you get trusted data into the hands of Finance and non-Finance teams?
To start, Finance teams should be working with IT and operational stakeholders to leverage available data from across the organization to generate informed insights and make data-driven decisions.  Implementing tools that centralize data from multiple sources, ensure data quality control and provide transparency with drill-back capabilities can foster alignment and trust within the organization.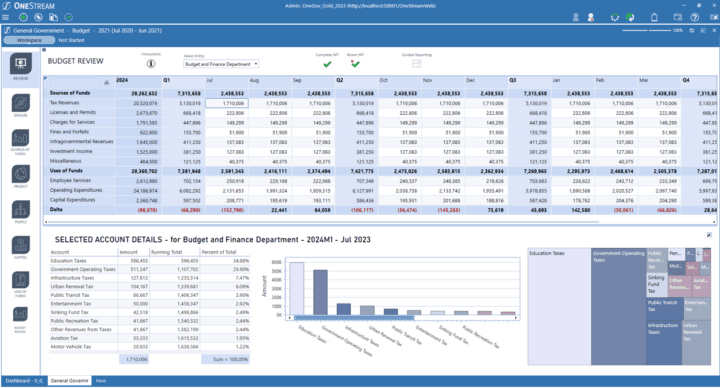 Enabling Better Collaboration
While the annual budget is a Finance-driven process, the whole organization should have everyone working toward the common plan and goals outlined for the community.  Doing that takes input from Finance and Operations to create a realistic, executable budget.  How is better alignment achieved?
Alignment happens when both Finance and Operations are provided with easy-to-use reporting and planning tools and the data needed for analysis. By leveraging built-in reporting and analytics capabilities in a platform with self-service capabilities, Finance can easily and quickly build dashboards and reports that can be shared across the organization – and do it in a way that everyone can understand and use.
While other Finance professionals may understand data spreadsheets, not everyone has the time or the background to dig into those reports.  Being able to hit the important points in a way that can be easily shared and discussed is therefore critical when time is of the essence in the annual planning process.
Implementing Continuous Improvement Processes
The annual planning process shouldn't be a set-it-and-forget-it approach.  After all, given the dynamic nature of today's business environment, the budget can quickly become outdated.  Maintaining the budget's relevance throughout the year thus requires continuous improvement.
Budget monitoring should extend beyond tracking spend and accountability at the department and account level.  To be effective, budget monitoring should also evaluate the level of service provided to the community, track the progress of new initiatives and programs, and identify trends and factors that can impact future operations.  This wealth of insights empowers state and local agencies to understand their performance and make better decisions for the future.  How can agencies promote continuous improvement?
Agencies looking to facilitate such improvement must provide a platform that will do the following:
Allow variance reporting at the fund, project or grant level of detail that can be evaluated in real-time to measure performance (see Figure 3).
Enable forecasting throughout the year to fine-tune fund allocation and control spend.
Perform robust scenario modeling to evaluate alternative futures, which helps mitigate risks and optimize opportunities.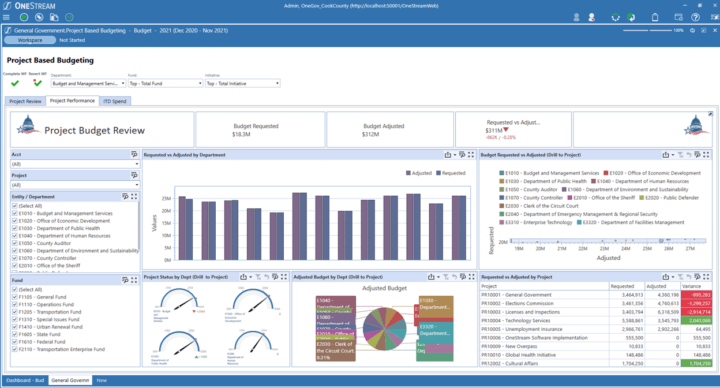 Conclusion
As the next planning cycle approaches, government agencies must take proactive steps to enhance budget confidence.  Those steps include prioritizing quality data, fostering better collaboration and embracing continuous improvement processes.  Through those actions, agencies can improve planning efficiency and empower decision-makers.  Implementing modern tools and methodologies will ultimately enable government agencies to successfully navigate the complex budgeting process and fulfil the mission of better serving their communities.
Learn More
At OneStream, we understand the high-complexity, time-consuming and challenging nature of planning and reporting.  And that understanding is exactly why we built the OneStream Intelligent Finance Platform – which is built to enable confident decision-making and maximize business impact for state and local government agencies.
Want to learn more about how OneStream can empower your organization?  Visit our website at www.onestream.com.